How user experience design can help you, Part II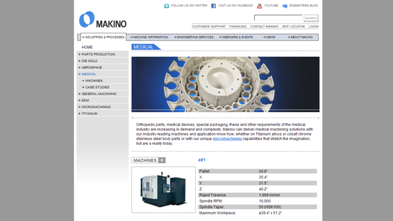 Today we continue analyzing how Makino can improve its user experience design.
Typically, the main navigation on the site is a horizontal navigation above the content. Here, this navigation contains utility links for Customer Support, Financing and the like—clearly not main navigation which is at the left. But the left navigation is a bit overwhelming particularly when the sub-navigation appears on rollover. The names are cryptic which doesn't serve the uninitiated well. For example, "Graphite Mach. Ctr / v56 Graphite" is one link/sublink. How many visitors to the site will know in advance that this is the product they want? Perhaps I'm just uninitiated but this nomenclature seems useless to most visitors.
The graphical links and text of the buckets at the bottom of the page work well with the exception that that area seems disconnected from the main page by virtue of its gray background.
When I click into a sub-section using one of the links on the left, a new navigation appears across the top of the page. Where was this before? Why wasn't it on the homepage instead of the left navigation? This makes more sense in that it feels like a main navigation housing primary links to the site. Exposing the left navigation sub-links also makes sense, however, the use of all caps makes that feels more like something that is not intended to be read. It has a harsh, off-putting feeling that would be better if treated in upper and lowercase. There is a problem with that left navigation, though. First, the word "home" that appears above it does mean the homepage of the site but it's position in the nav implies that it may be the homepage of the sub-section. This is made more confusing because there is no link to that sub-section homepage in the left nav as there should be.
To read more, please see the third post on why user experience design is so important.