Digging deep into web usability, Part III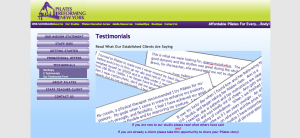 Below is the final portion of our web usability study on pilatesreformingny.com.
There is so little text on the homepage that SEO isn't likely. The title on the page—welcome to our studios—is so generic that search engines can't derive any useful information from it. The page is also very short which is fine if you view it on a 17 inch monitor but on a large monitor, there is a lot of wasted space that should be used for additional information on the home page.
The list of buttons on the right side of the homepage are difficult to read because of their gradient background and the last one in the list says, "new button title." Oops. In general, links such as these need to be given a title to aid the visitor's understanding of what they are without having to read all of them. Are these the "hottest links," the "get connected" links? Something else?
Having the promotions on the homepage in modular boxes that can be swapped out is a good idea. An even better idea would be to have the text of these editable so that if there is a small change, text could be changed easily. Also, when listing promotions, we should always give the visitor the opportunity of seeing all promotions.
Moving deeper into the site, the pages seem unbalanced as to the amount of content. Many of the pages are very short and could be eliminated or merged with other pages. Other pages are organized in a curious manner. For example, there is a page of testimonials where there are very brief excerpts and the ability to download individual pages of testimonials. I doubt many people will do that. A better approach would be to use excerpts within the HTML pages and allow users to view more by clicking to expand the information.
I could go on as I see so many ways to improve the site.  Enhancing the site, making it more cosmetically appealing and more user friendly, would significantly help your SEO program (should you implement it), your on time visit, your web usability, and much more.