How user experience design can help you, Part IV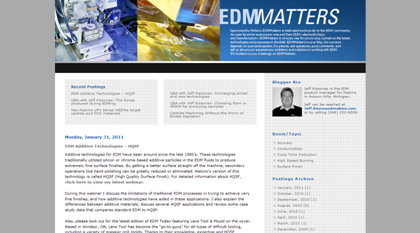 Today we wrap up the discussion on how Makino can improve its user experience design.
The Blog, which you do post almost monthly, layout with all of the wall of gray text the same size, the gray sidebar, the gray background and even the gray photo makes the page a real snoozer. Not even the colorful headline image can breathe life into this page. It's DOA.  Even worse none of the blogs have been leveraged for SEO purposes nor have you optimized the blog on other web2.0 platforms. The individual blog entries need titles so visitors can glean what the entry is about without having to actually read into the text. Images should be used to also help enliven the page and distinguish the articles. And, of course, the blog should be better integrated with the site rather than a separate site as it is now.
Overall, the site seems to be the weakest area of your online communications. There is also no mobile version of their site available for users.   As a result, they force the user to click additionally to access that information. It should be more readily available on their site. Since the client is generating articles for posting, those should appear on the site's homepage in one way or another so that the company gives the appearance of a vibrant, active company.
By working on your user experience design, you can attract and retain more traffic to your site.