How user experience design can help you, Part III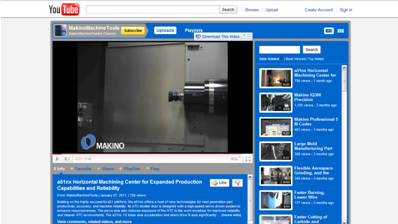 Below is the continuation of the user experience design study for Makino.com.
The drill-down into the site works well for the most part. There is an error that is generated at https://www.makino.com/machines/EDGE2/ but otherwise the site seems to function. Because the site has main levels, though, it is easy to become disoriented with the cross links. There should be a clear breadcrumb trail to help visitors understand where they are within the site. To show the depth of the site, one breadcrumb would be:
Home › Industries & Processes › EDM › Case Studies
On click of one of the articles, though, the visitor is sent to a different area of the site altogether and without such a breadcrumb, it's easy to get lost. Further, there are very similar offsite links that look identical to cross-site links. These should be treated with greater distinction to inform the user that the will be going off-site. Also, those off-site links to articles and such should open in new windows rather than the same window.
There are some nice features to the site such as the ability to compare several machines at once, the webinars and social media links. The YouTube channel is particularly impressive. Who knew there would be so many videos available of machine tools, great job by your agency.  The background blue of the YouTube page is a little overwhelming but aside from that, it works. Nice cross-inclusion of the Tweets and YouTube videos on the Facebook account too.
To finish reading, please see the final post on why user experience design matters.