How to tighten your website with web usability, Part I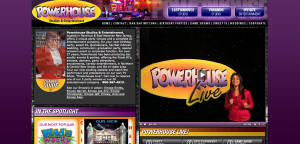 Sometimes less is more, and today's web usability study on Powerhouse's site illustrates how being precise with your site's content can convey your site's message in stronger way than if you were to try to cram in everything on one page.
The first thought that comes to mind when looking at the homepage is "clutter." While it's important to communicate the idea of energy and fun, there is a fine line between those qualities and overwhelming the visitor with visual noise as this site tends to do. It is possible to portray energy and excitement while still focusing the visitor's attention on important navigation or other first-tier communication items. The first thing I'd suggest is that we tone down some of the bling so that the main messaging can come through.
There is no prominent contact information on the upper portion of the pages so that visitors can contact the company from anywhere. Instead, visitors must go to a dedicated pop-up window for that information which is cumbersome. Also, there is no contact form where visitors could outline a date of an event and select the nature of the event so that someone from Powerhouse could call them back. This can often be as effective at starting the dialog with customers. It's a pity there isn't one toll-free contact number for all services. In looking at the contact page, I have a choice between four different numbers to call and I'm not sure which one would be best. Having a single point of entry would greatly simplify the start of the dialog. There is an 800 number embedded within the paragraph on the homepage but its treatment is such that it doesn't look like a main point of entry. Is it?
To continue read, see the next post on how web usability can get rid of unnecessary clutter on your site.