Why you need user centered design, Part V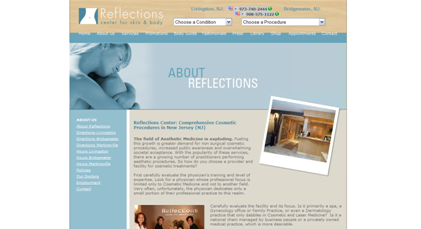 Below is the rest of the study on user centered design at reflectioncenter.com.
The overall look of the page is very bland as well. The muted color scheme along with the monotonous type size and long pages insures that any important text is going to get lost. Couple that with the lack of clear hierarchy in this section and it's a recipe for confusion.
Overall, the site seems very static in the way that was typical of sites 10 years ago. The pale color scheme with the blue people is rather somber. The only area of the site that wakes the visitor up is the Press section with the magazine covers and those are images from other publications—not part of the Reflections site. Today, visitors want more timely information, more options to share content via Facebook and Twitter and to be kept informed of the latest updates, promotions and events. The current site doesn't offer the visitors any of that. The information on the homepage is probably the same information that was there when the site launched. There is nothing new to bring visitors back again and again. There is no customization so that the site knows who is visiting. The rewards program should be tied into online promotions so that when a visitor signs in to their account, they can be offered promotions that are customized to their needs. Say, if someone has had Botox three months ago, they could be offered a 10% off Botox treatment. Similarly, the newsletters should include more prominent offers and incentives to visit the site and make an appointment. These incentives would be most effective if they were targeted to the user's needs rather than a blanket offer. This is a great way to develop customer relationships and drive business.
By tailoring to the needs and interests of the user, user centered design is able to attract more potential customers into browsing the company's site.