Web usability tips, Part I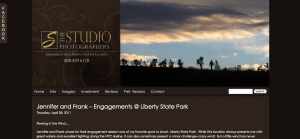 The Studio Photographers site is built on a standard WordPress photo blog theme. WordPress is a good blogging software as it is easy to edit and post articles. There are also a number of nice photo blog themes that are available. Unfortunately, this one is problematic, and this week's post offers various ways in which the Studio Photographers website can improve its web usability.
First of all, there's the length. If printed, the homepage would require 72 pages to print. This is too much content for any page and particularly for the homepage. While the photography is beautiful, all that I can hope to do is scroll down quickly to glean a bit of what is there. There is simply too much content for me to absorb the whole. It would be better to offer fewer images that represent their different styles and allow the visitor to choose which ones he or she wants to explore. This overabundance is also problematic in the navigation for imagery/beautiful venues which contains 23 sub-level links that would extend below the user's monitor window on a 17-inch screen. Instead of a drop-down of this length, visitors should be given a page from which to choose venues. I would imagine that most people would not know but 3 or 4 of these, so having a visual reference next to the name on the page would at least clue the visitor in as to what the venue offers.
While I think having a series of images on the homepage is a great idea, users should be able to interact with and control the sequence. If a visitor finds an image interesting, then he or she should be able to pause the slideshow and examine the photo. If they want more information, they should be able to click through to a series of similar images. Further, these images are created using Flash which means that the slideshow will not load on the iPhone or iPad. Fortunately, they do have a static image that loads if the flash does not and the site does not look broken. Still, other technologies exist to animate photographs that will work on multiple platforms and browsers.
To learn more about web usability, be sure to check out our next post.