Tips on how to improve user centered design, Part IV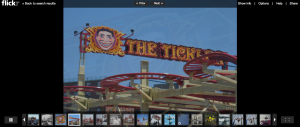 Below is the final portion of our study on Luna Park's user centered design.
We should also collect names and emails to remarket to. A newsletter signup would be great and we can offer incentives like letting those on the email list know about special events or even give them discounts on entry or in-park items. We could even have contests like emailing a photo of the park (historical or contemporary) and asking recipients to identify it. Those who respond with the correct answer in the subject of the email will be entered to win something.
And lastly, for a park that is visually rich and makes an emotional connection with visitors, the site is almost entirely devoid of photographs. Sure, there are ones of the rides but I can't tell of those are from Luna Park or stock photos from the ride manufacturers. What we're missing are large, beautiful and varied photographs to draw visitors in. I searched on Flickr for Luna Park and have a slideshow of images from there. I don't know how many of the photos include things that are no longer there but follow the link and you will get a much better visual sense of the place, or what the place used to be, than on their current site. If getting good photography is an issue, I'd suggest we use social media to recruit photography from visitors to the park. We could credit each photographer on the images we use. That way, we can use the power of social media to connect with visitors to the park and have them reconnect to the site when they return home.
Luna Park is a unique place, one that engages visitors, draws them in and entertains. The website should do no less. By working on improving its user centered design, Luna Park can more effectively convey the magic and charm of its amusement park to users.