Tips on how to improve user centered design, Part I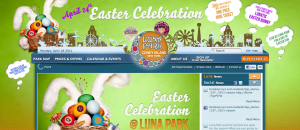 It's not enough to just have a great product or service; you have to have great marketing as well. Nowadays, many businesses have their own website, and more importantly, customers are cross-checking those websites before they decide to open their wallets. As a result, it has become increasingly important for all companies to enhance their user experience design, and Luna Park is no exception to this fact.
I am so excited to learn about the possibility of redesigning the Luna Park site. As anyone knows who has lived in or near New York, Luna Park as a rich history—a history interwoven with that of New York City. When many people think "Coney Island", they think of Luna Park. I can just imagine the look on people's faces when the lights were first turned on at the original park. It must have been amazing. And for decades after that it drew throngs of New Yorkers. It has such a rich history—a lore really—that I was disappointed when I loaded the Luna Park site.
First of all, it is a shame that the URL LunaPark.com is not available as that would be preferred, of course. But my issue with the current website is that it is generic and, for the genre, rather banal. We could remove the Luna Park logo and drop in a Six Flags, Dorney Park, or Lake Compounce and the site would be just as appropriate. But Luna Park is not Six Flags. Nor should the site look the same. The site needs to convey a sense of place, of history and of what the park is today. As an example, the text in the Luna Park logo is an art Nouveau and most likely dates back to the early 20th century when the park was built. As such, it helps convey a sense of tradition, of timelessness. It is this that the site most desperately needs. It needs to be a theater for the eyes; one that is rich and expressive, one that connects emotionally to the visitor in as much as the actual park connects to them.
To continue reading, please see our next post on how to improve user centered design.