Enhancing user experience design, Part III
Below is the rest of our segment on user experience design on the Sahara Sam website.
In fact, it is the issue of "standing out" that is a concern. While I do think it is appropriate to keep a fun and playful vernacular language for a site such as this, overall, it feels like everything on the page is trying to communicate at the same level. The final effect is one that is a disjointed where everything competes with everything else. Special promotions, breaking news, navigation. The logo, animated banner and other links have very similar weights and contrast and thus create activity without creating a clear message for the user. While this may be considered the intent of the design, it is possible to retain a vernacular design while helping guide the user through the site. For example, the 360° tour is more effective at conveying a sense of the space than anything else on the site yet it contains almost no information. It is a pity that the only sense of this view is through the button below the masthead. With all else going on, it could be easily missed. Also, one note on the 360° view' it would be infinitely more interesting to see the place in use rather than empty. In comparing it to the Disneyland site to see how Disney promotes its parks, the one constant throughout all photographs is people. And not just documentary photographs but photographs showing a multi-age, multi-cultural mix of visitors having a great time. Even on pages like Birthday Parties, where we should be able to see smiling happy kids enjoying the time of their lives, all we see is a wall of text. All of the fun photos seem relegated to the attractions page. Where I have seen pictures, though the quality is not great. For example, compare the following from Sahara Sam and Disney (shown at actual size). Which is more inviting?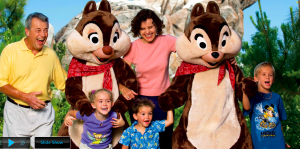 The final analysis is this. The facility looks like a fun and professional environment for the entire family. While the website struggles to do the same, it does not present Sahara Sam's as professionally as it deserves.   All of this however is compounded by the lack of cohesion in the SEO efforts…
We hope this study on the user experience design was useful was to you!