When my mom was a kid, she boasted an impressive collection of the Encyclopedia Britannica since it was the world's go-to hub for answers at the time. Today, Google fills that position. With 3.5 billion searches processed each day, you know that some of those search queries will relate to your industry, your products, and maybe even your brand. Promoting a business on the web can sometimes feel like an uphill battle, especially for smaller brands competing against Fortune 5000 companies with a seemingly endless budget to fuel marketing outreach.
The ongoing struggle to reach the top of Google's search results is cutthroat – sure SEO can help, but that approach may take months to notice results. Irrespective of size, businesses can attract and generate new website visits with some help from Google Ads.
What are Google Ads?
Formerly known as Google AdWords, Google Ads refers to search engine's paid advertising product, allowing digital marketers to design ads that manifest when a consumer searches for targeted keywords. When configured correctly (easier said than done), these search queries should align with your company's products or services. But how can you anyone spot the difference between promoted ads and organic web pages? Simple, Google Ads differ from organic search results by the word "Ad" highlighted in green.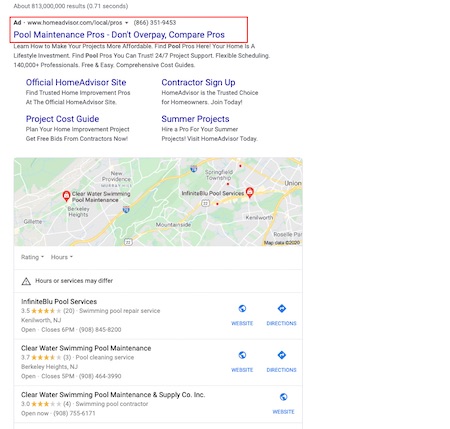 These ads will usually appear at the top or bottom of Google's search engine results page (SERP).
Why Use Google Ads?
Advertising with Google can prove helpful due to Google's dominant position in the search engine landscape. Unlike paid ads on Facebook, advertising on Google shows relevant ads to people actively searching for a product, service, or answer that fulfills their needs. In addition, brands can serve up ads on YouTube, Google Display Network, Google Maps, Google AdSense, and Google Play.
Need more reasons why your brand should utilize paid search ads? Well, numbers don't lie, and they're quite impressive:
Google's 2019 advertising revenue exceeded $116 billion
Google Ads convert 50% better than organic search results
Average ROI for Google Ads campaign spending reached 200%
Moreover, Google Ads are a proven way to build brand awareness and drive qualified traffic to a website through features like advanced targeting. Let's explore some of the elements that make Google Ads the most effective method of paid advertising on the web.
1) Precise Targeting
With Google's multitude of advanced targeting options, business owners can position ads in front of prospective customers. With tighter controls, advertisers can filter their target audience based on geolocation, age, keywords, and key demographics, along with the option to choose the time of day when ads reach customers. Since many businesses close shop on weekends, your company may want to consider only run ads during normal hours of operation (Monday through Friday from 9 a.m. to 5 p.m.).
Following an update in 2014, businesses now have the option to select the device type (desktop, tablets, and mobile devices) to render ads. Furthermore, bid adjustments automatically bid higher or lower on the device most likely to convert on your website.
2) Geographical Relevance
Listing your location in your ad's headline gives relevancy to consumers looking for services that your brand provides. When consumers search for a service on Google, they're more than likely looking for businesses nearest to them. You can set geolocations on your ad so that Google will serve it to potential customers in a specific area such as by city, region, state, or just a 10-mile radius.
3) Optimized Spending
Clicks are not cheap, and they will continue to rise in price due to growing demand. Luckily, Google uses a pay-per-click (PPC) advertising model; you only pay when a user clicks through your ad. As such, your marketing staff can decide how much you're willing to devote to paid search ads. This, in turn, allows businesses to re-adjust their budget throughout the campaign and divert resources to other areas.
4) Tracking Your Ad Results
Unlike traditional forms of advertising – TV, radio, direct mail, or billboards – a Google Ad campaign is easier to measure results. The Google dashboard allows your staff to track how many people view your ad, click through your ad, and ultimately perform the desired action on your website. This type of statistical data offers you the freedom to determine if you want to edit or test your ad's copy, bidding strategy, or target keywords.
Maximizing Your Google Ad's Performance
When managing a Google Ad campaign, marketers should focus on three critical components:
Bidding strategy

Keyword relevancy

Landing page design
1) Bidding Strategy
Google's advertising platform allows the chance to bid on keywords that people use when searching for businesses in the surrounding area. The amount you bid on the keywords determines how and where your ad will appear on the results page.
As a word of caution, you must integrate keywords into your ads appropriately. If your keywords are too broad, you may receive a plethora of clicks that don't any solid leads. On the other end of the spectrum, narrow, long-tailed keywords may not receive enough traffic because of lower search volume. The key to success involves a healthy mix of keywords, so take the time to learn more about your audience and their search intent. Incorporating negative keywords into your campaign will also help you steer clear of unwanted clicks that waste valuable ad dollars.
2) Keyword Relevancy
Always deliver on your promises! The keywords you bid on must remain relevant to the ad itself for it to display on the results page. Remember: Google will only feature your ad if it adheres to strict guidelines. Your ad should be concise and specific with a strong call-to-action to ensure it's easy for users to identify your brand and offerings.
3) Landing Page Design
After crafting the ad, your landing page probably needs some fine-tuning. You cannot overlook your landing page's design. Make sure you have an actionable event ready for when a user arrives on your landing page. Furthermore, the page should look visually appealing, contain valuable information, and have a mobile-friendly design with a strong call-to-action.
Google Ads: Propel Your Company to the Top of SERPs
Just because you own a small business doesn't mean you cannot compete with bigger competitors or corporations. With a well-planned PPC campaign, your website can appear in sponsored or featured section at the top of search engines, thereby increasing the likelihood that your product or services reach new users. PPC doesn't take days or weeks to kick in, it happens instantly, and the results are measurable. So if you're ready to take your digital marketing to the next level, consider adding paid search to your existing strategy. Dial (973) 346-8100 to connect with the Premiere Creative team to discuss your next Google Ad campaign. Make sure to subscribe to our blog for routine updates on the latest trends and updates surrounding Google Ads.