In 2015, approximately 65% of adults in the U.S. owned smartphones, including over 80% of people between ages 18 through 50. In 2015, Google reported that mobile search queries surpassed desktop, which shifted the entire digital landscape. Today, marketers must adopt new strategies and practices aimed at the mobile experience when creating paid search ads.
Creating Mobile-Friendly Ads
Search has gone mobile thanks to smartphones, meaning you cannot afford to ignore mobile users. Thus, you have to target mobile users effectively with mobile-friendly ads. When creating your ads, make sure you use language tailored for the mobile experience. For example, tell searchers that someone is standing by and ready to take their call. You can also use mobile-specific calls-to-action such as "Call Us Now," or "Buy On Your Phone."
When creating mobile-friendly ads, make sure you link to mobile-optimized landing pages. If your page does not configure to visitors' devices, they may become frustrated and leave your website without making a purchase. After you launch your campaign, segment data for mobile ads apart from your desktop ads. You want accurate data when analyzing how your mobile ads performed, and how you can further optimize your ads to increase conversions.
Paid Search Call Extensions
Call extensions can play a critical role in driving conversions from paid search ads. According to research from Google:
70% of mobile searchers have used call extensions to call business.
Ads with call extensions get an 8% higher click-through rate.
Google call extensions drive nearly 10 million calls per month.
Mobile searchers want answers, and they want them quickly. They shouldn't have to hunt for your business's phone number.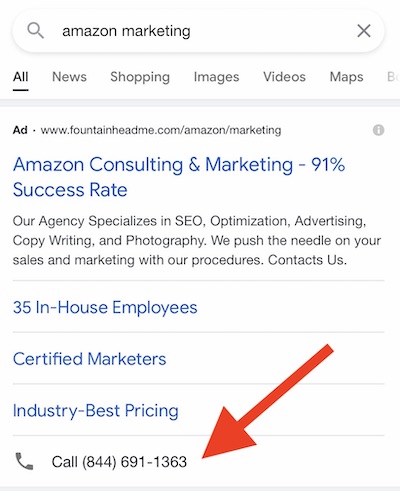 Adding call extensions to your ad allows you to streamline the process by including a clickable phone number within your ad that acts as a "call" button.
Call-Only Ads
Mobile searches often occur when people are on the go and seeking an immediate way to contact a business. To capitalize on this audience, you can use call-only ads that combine simplicity and immediacy. Instead of visiting a landing page to find a phone number, searchers can call directly from the ad.
Since the only conversion is a call from SERPs, write your ad text accordingly. Try tailoring ad text with phrases like "speak to a specialist now" and "call 24/7" to help incentivize action. Furthermore, make sure you limit call-only ads to run during your business hours or when someone is available to answer calls. Be careful with time zones if ads are running in different areas of the country.
Local Paid Search Campaigns
The volume of local searches on smartphones and mobile devices is enormous, driving billions of calls per month. Those callers also convert to customers at a high rate. How does your campaign stand out from the competition? If you run ad campaigns to drive business locally, here are some ways to optimize mobile paid search to drive local calls.
Use call-centric language and calls to action
Include locations extensions to drive in-store visit
Use the location in your ad text and URL
Include call extensions with local numbers
Include discount and promotions to incentivize action
"Nearby Business" Ads for Mobile Local Search
To help increase calls and in-store visits, Google launched "nearby business" ads. Originally launched in May 2015, "near me" searches have doubled in the past year, with 80% of those coming from mobile. The ads trigger when someone runs a local search in AdWords, and they include a link to get directions or click to call the business. The ads resemble the organic local business listings on Google mobile searches; however, you must have location extensions enabled to be eligible to show nearby business ads to searchers.
Voice Search
Many customers now rely on Siri and Alexa for answers to their questions. As voice search continues to increase, many digital marketers believe it will play a large role in the future of search. As a result, you should prepare to utilize voice search queries in your next campaign. Furthermore, you also need to understand what sets voice search apart from other quires. For example, voice search queries tend to be longer with over a dozen words. Voice search also tend to be more specific. Thus, you should analyze your long-tail keywords to find patterns. Voice searches are also more natural and conversational, so you will want to optimize your keywords accordingly.
Are you looking to incorporate paid search ads into your marketing campaign? If so, contact the digital experts at Premiere Creative today or give us a call at  (973) 346-8100!