If you hope to transform into a PPC guru, then you'll need to develop a solid understanding of your Quality Score since this number can influence the success you see in your campaign.
Great content and a beautiful website aren't always enough – sometimes companies need an extra push to facilitate new leads. Google Ads is a customizable ad platform allowing each company to pay a nominal fee in exchange for placing advertisements at the top of SERPs for specific keyword queries. The average company spends between $9,000-$10,000 per month on Google Ads; so, if you haven't already experimented with paid ads, then you're arriving late to the game.
Understanding the importance of Quality Score will help elevate your Google Ad performance and take your company to new horizons by reaching a broader audience.
Read on to help your business save money, see higher click-through rates, and lower CPC costs.
What is a Quality Score?
Google introduced Quality Scores in 2015, which rates any company's ads on a scale from 1 to 10. Google determines this score based on how well a web user can find your ad with a set of keywords. With 1 being the lowest score and 10 being the highest, Wordstream recommends aiming between 8 and 10 for branded content, 7 to 9 for high-intent commercial keywords, 7 for low-intent keywords, and anything over 3+ for competitor keywords.
Google calculates a Quality Score by examining three performance-based factors:
The Expected Click-Through Rate (CTR) measures the likelihood of someone clicking on your ad.
Ad Relevance analyzes how your ad relates to the user's search query.
Landing Page Experience determines how useful or relevant your landing page users clicking on your ad
Over the next 90 days and decide if these three components are "Above average," "Average," or "Below average." If your CTR scores "Above average" but your Landing page experience scored "Below average" then you may need to make some revisions if you want to attract a bigger audience. Some changes you can make to your landing page includes implementing rich visuals, responsive design, compelling copy, or a stronger call-to-action.
How to Increase Your Quality Score
Keywords are a critical factor when Google determines your Quality Score. If your ad doesn't contain any relevant keywords, then your ad will never appear in front of the right eyes. According to Google, grouping your keywords can help to increase Quality Scores by using multiple ad groups instead of all your keywords in a single group.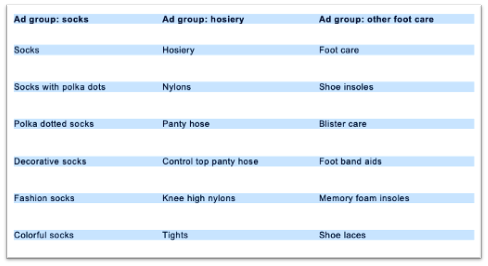 For example, Google used socks, hosiery, and other foot care as their three ad groups. They made sure to utilize multiple ad groups instead of just putting all of their keywords into one ad group. They grouped their keywords into similar categories and created ads that were relevant to those categories. This will lead to a higher Quality Score because your keywords are much more specific to what is on your website.
Along with experimenting with ad groups, try researching better keywords that can lead to higher click-throughs. Using long-tailed keywords ultimately proves beneficial because they are more granular. Since people using these phrases are looking for specific products or answers to their questions, they're more likely to make a purchase.
On the other hand, short-tail keywords are too generic and may attract visitors with little interest in your products or services. If you have a low-Quality Score, then this usually means there is a disconnect between your keywords and your ad text.
How Do You Check Your Quality Score on Google Ads?
According to Wordstream, there are three ways to check your Google Ads Quality Score.
Method 1: The Status Command
Sign in to your Google Ads account
Select the campaign and ad group you want to check
Select the Keywords tab
Click the Status icon located next to a keyword and the analysis field will appear. The second section of this field will show you the keyword's Quality Score.
Method 2: The Customize Columns Command
Sign in to your Google Ads account
Choose the relevant campaign and ad group
Select the Keywords tab
Click Customize Columns at the top of the ad group table
Choose Show Quality Score from the drop-down menu
Press Done. Each keyword on your list should now have a defined Quality Score
Method 3: A Keyword Performance Report
Log into your Google Ads account
Select the Reporting tab at the top of the page
Click Reports
Select Create a New Report
Once you arrive in the "Report Type" section, you'll need to choose "Placement/Keyword Performance."
In the "Advanced Settings" section, click Add or Remove Columns
Select the Keyword Quality Score Detail checkbox
Once you have chosen your other report setting in the "Templates, Scheduling and Email" section, click Create Report. You will then receive a report on your quality score for each keyword.
Making Sense of Your Quality Score
In the end, having a higher Quality Score will cut down on the cost for your campaign and will affect ad placement. Using smart keywords, utilizing long-tailed keywords, and organizing your ad groups into related categories will lead to a lower cost per click (CPC), saving your company precious dollars as ad prices continue to soar.
Need help optimizing your Google Ads? At Premiere Creative, we have a team of PPC specialists that can evaluate your ad performance, overhaul your existing content, and implement a superior strategy for future campaigns. Let the Premiere Creative team take the reins and lead your company to more conversions with our deluxe suite of digital marketing services. Dial (973) 346-8100 today to give your PPC campaign a much-needed makeover.