The holiday season is upon us; in the digital marketing world, more is not always merrier as businesses compete with a heavily infiltrated social media market. Premiere Creative is part of the hustle and bustle of the season, and yet we want to take a moment to navigate you through choosing the right social media holiday ads for your business.
Holiday ads can be intimidating; from weighing your options regarding the best social platforms to select, determining the most suitable campaign objective, and even what holiday to choose; should you promote on Black Friday, Cyber Monday, Green Monday, Christmas, or New Year's Day? More importantly, is it even worth it?
Let's take a look how your business can benefit from holiday ad spending in Q4 with some compelling statistics.
National Retail Federation (NRF) reports sales between November and December account for 30% of retailer's annual sales.
60% of consumers under 40 buy their holiday gifts online, compared to just 40% of Baby Boomers.
60% of consumers say that they plan to buy more often from smartphones or tablets in 2016 than last year.
40% of consumers report starting holiday shopping by Halloween
Facebook
Want to track your holiday shoppers to see if your pricey ads are converting fans into customers? Consider installing the Facebook Pixel to your website pages to monitor your traffic flow before, during and after each holiday. Lands' End used Facebook carousel ads to increase online sales and attract new shoppers to its website resulting in 35.1% increase in new website visits 3.2% increase in new customers.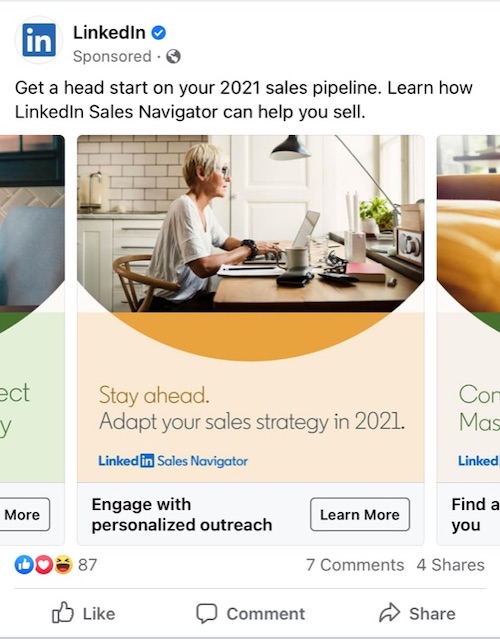 To make your ad stand out feature high-quality cheerful holiday images, and utilize your insights tab to see the most effective times to post, readjust your audience.
Twitter
Did you know 52% of shoppers are likely to tweet about their shopping experience? An additional 69% of shoppers are more likely to purchase from a brand they follow on Twitter! If you have followers, you have potential customers. Now is the time to use remarketing tools and conversion tracking in your ad to sway buyers this season.
Creating a website card is an essential and smart tool to easily bring your followers back to your company website. It worked for an e-commerce company, MVMT Watches, who used Website Cards to achieve a 353% increase in purchases during the holiday shopping season.
Instagram
From retail giants like Macy's to your neighborhood boutique store, retailers are taking advantage of bringing window-shopping to their Instagram business account. What better way to show off holiday gift ideas than with a catchy photo montage, boomerang app, or utilize the video option for an in store holiday teaser tour? Remember to check in with your instagram business insights to see what content works the best. Add some holiday hash tags appropriate for your business to increase search ability. Finally, tag your location so followers can easily find your place of business. Get creative this season with countdowns and first looks; give your customers a reason to shop with you this season.
Pinterest
Did you know that 45% of "pinners" begin planning the holidays 60 days before other Internet users, which is 21% higher than the general public. Why? Because Pinterest is the idea mecca! According to Pinterest, 69% of pinners claim this social media site is their go-to for planning holiday gifts. If you are a business that offers a type of material good, this prime real estate you can leverage.
Pinterest is 5 times more effective at driving in store sales than any other platform. We recommend utilizing this platform to your business's benefit by investing in promoted ads. Start with Pinterest analytics to evaluate your target audience, then get "crafty" by using images that show how to incorporate your product into the holiday season, thus giving pinners a reason to take notice. Be sure to also use targeted keywords to better reach your potential consumers.
When to Post Your Holiday Offers
As you gather with family and friends and check your social newsfeeds, it seems deals and discounts are happening earlier and earlier. From November 17 through December 7th addthis.com research indicates that Facebook, Twitter and Pinterest receive the most shares in the morning between 10-am and 12pm, and the most clicks in the afternoon between 3pm-5pm for Facebook and Twitter, however Pinterest users engage from 8pm-11pm. A good approach is to access your audience to gage when they would be thumbing their newsfeed? Are you consumers partaking in holiday parties at night? College students sleeping in during break? Moms up early? Choose your times based on your social media insights and post accordingly.
Maintaining Shopping Holiday Spirit
If you are a restaurant, retail shop or eCommerce clearly post your holiday hours on your business page and in a social post. Customers will want to know the earliest they can snag specials and deals on Black Friday or New Year's Day sales. To increase engagement and promote incentives and deals, use a holiday hashtag. For example if you are a coffee shop use a catchy holiday-spirited, #cupofcheer. Be sure to closely monitor post comments, reviews, and new wall posts to ensure customers and fans alike can easily reach your business for any quick questions, and also engage in conversation to promote re-shares of your specials.
Social Throughout The Season
This year mobile purchases are expected to surpass desktop sales by more than 50%. For businesses this means being proactive by checking that your sites are mobile responsive, and not just for the holiday season. To entertain the likes of both loyal patrons and new shoppers, personalize messages and continue to spread the holiday cheer by maintaining the best customer service. For more on social media patterns during the holidays, contact the experts at Premiere Creative. Call (973) 346-8100. Happy Holidays!