Deeply challenged by the global pandemic, many small to mid-sized businesses struggle to stay afloat during this crisis on top of their pre-existing competitive business landscapes. One strategy to push through these challenging times is your existing client and prospect base. Email is one of the most valuable marketing tools at your disposal for attracting and retaining customers heading into 2021. Moreover, email marketing is one of the best cost-effective ways to promote your business, whether you strive to build your brand or sell services.
Many companies reported an eagerness to launch effective email marketing campaigns but ultimately struggle with implementation due to a lack of strategy, knowledge, consistency, or technical skills. We thought we could share some of our three decades of experience to help your business turn the corner and start 2021 off strong.
Reexamining the Value of Email Marketing in 2021
Email is an integral part of our lives as professionals, individuals, and consumers. More importantly, a good marketing email can build an authentic connection with your customers. Before creating your campaign, ask yourself, "What do I hope to achieve through this email campaign?"
Do you need to win a few lifetime customers or a heavy volume of one-time customers?
Do you want to increase engagement or expand your reach?
Are you looking to provide value to your audience's pain points?
Do you want to promote new products?
Strategic email marketing can help you achieve all of these objectives. Email marketing allows you to personalize and tailor messages based on customer actions. Furthermore, you can also segment your audiences to ensure that the right leads receive the most impactful information at the most effective times.
4 Essential Areas of Email Marketing Optimization
While many people prefer to conduct business through email, that doesn't guarantee that every consumer will open your message, click on your link, or perform a desired action. Despite following best email practices and executing a flawless campaign, you may wonder why your email marketing efforts fall flat. Well, a great email is like an orchestra. Many different pieces work together to create a breathtaking experience. Luckily, you can step up your email game with these four tried and true tactics.
1) Build an Award-Wining Strategy
Goals help you improve engagement by sending relevant content to targeted subscribers instead of blasting your entire audience with a generic message. But how do you define "success?" By achieving a set of goals outlined in the early planning stages? If you aren't clear on your goals, you cannot form lasting relationships. As you brainstorm your goals, remember to:
Segment your data into unique subset audiences
Provide unique dynamic content for each audience segment
Develop a relationship that navigates subscribers through your sales funnel
Nurture is the name of the game, pointed at new and repetitive sales
2) Distribute Great Content
What type of content are you sending out in your emails – and to whom? Thoughtfully crafting your content is the key to keeping subscribers engages once they join your list. Thus, make sure you leverage subscriber data to make your emails more relevant to audience members in various segments. Next, use positive social proof and user-generated content to boost conversions.
Excellent content should always be timely, relevant, and personalized. What are some examples of great content?
Highlight upcoming discounts or promotions
Feedback polls and surveys
Event Information for upcoming webinars
Product Updates and How-To Guides (Infographics, Blogs, Videos)
Company Information, like anniversaries or milestones, or business changes that impact customers
3) Personalize the Signup Experience
What value does your email marketing provide? The signup experience is the first encounter subscribers will have with your brand, so it's imperative to make their welcome experience meaningful. You can achieve this objective by:
Simplifying the signup process
Offering a clear and valuable incentive to signup
Welcoming new members to your list
Giving them options as to what types and how often they will receive your emails
4) Email Engagement
Email engagement is all about your audience and how they interact with your content. Subscriber engagement has never been more critical, with more emails flooding everyone's inbox. Keeping your subscribers engaged is the biggest challenge because you run the risk of losing subscribers. Luckily, you can analyze your click-through and open rates to learn more about your subscribers and to identify content that matters to them.
If you want to see higher engagement levels, remember to:
Send segmented campaigns with personalized content
Craft enticing email subject lines
Use personalization elements in your emails
Optimize your emails for mobile devices
Automate key messages to deliver timely, relevant experiences
Track audience behaviors to create content and messages that perform well to guide future emails
You can achieve all of these goals through email automation software like Klaviyo. This free, cloud-based platform allows eCommerce businesses to automate triggered email flows for events such as abandoned shopping carts and repeat orders.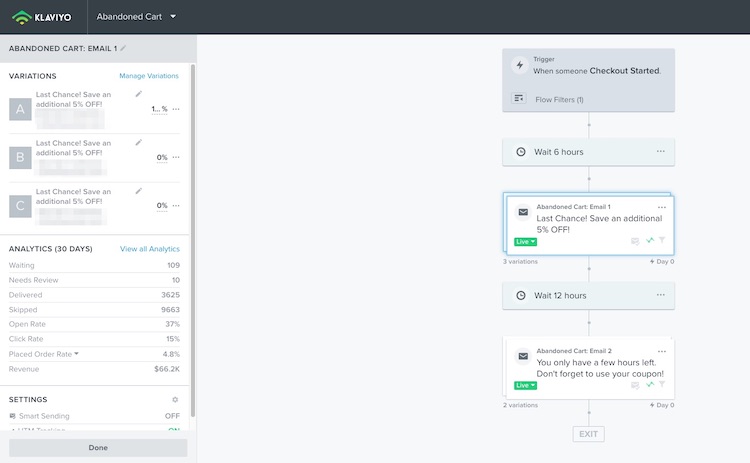 Through Klaviyo's custom web tracking technology, marketing teams can compare current and past campaign performance, segment audiences for targeted campaigns, view real-time activity streams and add, edit or remove other metric charts.
A Comprehensive Email Marketing Campaign Checklist
Starting an email marketing campaign from scratch can be quite a daunting task, especially for your first attempt. Use this checklist to ensure that your emails follow best practices perfect before hitting that send button.
Choose Your Timing
Send date and time: First, choose the date and time for your send, and schedule it on your calendar. Next, ensure it doesn't conflict with any other sends, and suppress any emails that are not performing in the last 12 months (no clicks, no opens)
Email Details
Subject Line: Check for typos and personalization
Preheader Text: Is it relevant to your subject line or body copy?
Footer: Does the footer match your brand identity?
Sender Address: Always include the physical address of your business
Unsubscribe Link: You must always include this.
Social Icons: Are they linked to the correct social networks?
Reviewing Email Marketing Content
Body Copy: Check for typos and readability. Objectively, is the copy exciting, and would you read it?
Images: Are they properly linked? Have you added a fallback color and ALT text to the background images?
Headlines: Between 4 to 7 words, do they encapsulate the content?
CTA Buttons: Are they properly linked? Is the offer clear? Does it inspire action?
Personalization: Do you have a fallback in place? If the subscriber's name is missing from your list, you can set a fallback tag such as "Hey Friend."
Dynamic Content: Dynamic email content allows you to personalize sections of your newsletter to a specific audience. Moreover, dynamic content only appears to the groups of people that you select.
Managing Your Email Lists
Suppressions: Do you need to suppress any lists?
Exclusions: Do you need to exclude any portion of your list?
Data: Does your subscriber list have all the fields you need?
Testing Your Emails
Inbox Preview: Have you sent yourself a test email?
A/B Testing: Consider running two variations of the ad to test the ad's performance
Team Updates
Notify Team: Notify appropriate teams such as your support or sales groups. Send them a link to the campaign, let them know who the audience is, and tell them when it will send so they can prepare for the next steps.
Sending Your Emails
Next, schedule your campaign to send immediately or in the future
After Pressing the 'Send' Button
Analytics: Finally, it's time to see how your campaign performed, so you can re-optimize it for future outreach
Drive Higher Online Conversions with Premiere Creative's Email Marketing Services
By partnering with Premiere Creative, you can optimize your marketing budget while maximizing your return on investment. We leverage robust audience data so that your brand can reach the right audience with the correct messaging in your emails. By partnering with the marketing experts at Premiere Creative, you can expect to grow revenues, increase website traffic, and drive guaranteed conversions. Dial (973) 346-8100 today to start planning your next email marketing campaign.