Listening to your audience should always be the first step in your strategy to grow your brand presence. Doing so allows brands to build deeper relationships with clients, quickly react to changes in the market, and refine existing outreach strategies. Google is the most popular search engine in the world, with hundreds of billions of web pages in its database and 3.5 billion searched processed each day. Would you like to receive a notification every time someone mentions your company or your target keywords somewhere on Google? Well, now you can integrate Google Alerts into your SEO strategy.
What are Google Alerts?
Using Google Alerts is similar to hiring a personal virtual research assistant. Google Alerts is a free content monitoring tool service that allows users to track keywords and receive automatic notifications when new content online matches your target keywords.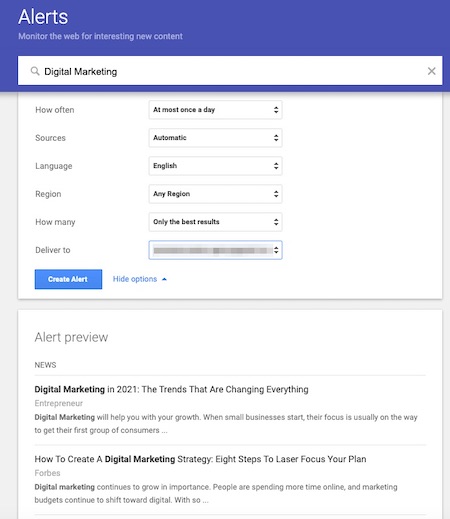 Most people use Google Alerts to monitor developing stories or receive the latest industry updates. When keywords or phrase included in your Google Alert gets published online, Google will send you a personalized email notification.
What are the Benefits of Using Google Alerts?
Google Alerts has a lot of potential applications for marketers, online reputation managers, social media experts, or content marketers. Google Alerts is a useful only monitoring tool, but few digital marketers understand how to unleash its full potential. Here are a few ways you might want to use this online monitoring tool.
1. Public Relations & Brand Reputation
Whether negative or positive, some people may always have opinions about your business. You can trigger Google Alerts when people are talking about your company online. With Google Alerts, you can listen for any negative comments or perceptions surrounding your business. Doing this helps you see what people say about your company and pinpoint any negative perceptions of your organization. You should stay on top of that negative feedback to maintain or improve your brand image and resolve any issues people have with your business.
2. Track Your Competitors
Since many businesses publish new blog content regularly, spying on your competition can give your team inspiration for innovative ways to expand business growth.
3. Monitor Your SEO Keywords
Google Alerts can help you strengthen your keyword strategy through insight on how people use your target keywords This can help you find new blog posts ideas, unique content angles that other content marketers haven't covered yet.
4. Build Quality Backlinks
Whenever someone mentions your business, product, or service on a blog or public forum, you have a valuable opportunity to create a backlink. Using customized Google Alerts will help you find as many of these opportunities as possible and jump on them while they're fresh.
5. Follow Industry News & Updates
Whether it's new technological advancements or trends, your industry's landscape will always change. You want to ensure that your business is on top of those changes so that you don't fall behind in your field. You can see how it's changing by tracking industry keywords using Google Alerts. This allows you to stay on top of your industry to keep current with your target audience.
6. Check on Indexed Content
You can receive an alert once Google indexes newly published content. Just use the "site:domain.com/url" syntax and you will receive an alert once Google completes the process.
How to Create a Google Alert
Visit the Google Alerts website
In the search bar at the top, enter a topic you want to follow.
To change your settings, click Show options. You can change:

Notification Frequency
Website Types
Your language
Region
How many results you want to see
Which email account receives the alert

Create your alert. You'll begin receiving emails for your selected topics based on your settings.
Now that you've created your alerts, it's time to start using them to your advantage.
How to Maximize SEO Value With Google Alerts
Google alerts have the potential to overwhelm with irrelevant information if the search criterion becomes too broad. Here are some methods to help filter out noise from the results:
Mention Specific Words & Phrases: Using Quotations Marks ("") is the first stop for improving online search results. Adding quotes around a term lets Google know not to look for any permutations. For example, searching for market will also serve up markets and marketing in the SERPs. But searching for "market" will only display "market." Use quotation marks around multi-word search terms and limit your alert if you want your results to include only that exact phrase.

List Negative Keywords: Placing a minus (-) symbol in front of a search term will remove it from the results.

Include Common Misspellings: Everyone misspells words from time to time. For instance, Google reports that people misspell about 10% of their search queries every day. While Google is getting better at detecting and automatically correcting misspellings, you can take advantage of this by targeting commonly misspelled keywords. These keywords are often far less competitive than the correctly spelled keyword.

Create Multiple Google Alerts: You can create up to 1,000 alerts per account, so trying configuring several Google Alerts to cover different variations of common search queries. If you're concerned about all the emails flooding your inbox, adjust the settings to decrease the frequency or stagger delivery days. You can also set up a separate Gmail account that only serves to receive these emails.
Configure Your Google Alerts Today!
If you don't already have Google Alerts set up, take a few minutes to start tracking your most important names and keywords today. Need help creating Google Alerts for your SEO efforts? Having served countless small to mid-sized businesses across the nearby New York City & New Jersey area, Premiere Creative can deploy methods that will propel you to the top of Google search results. Dial (973) 346-8100 to schedule a consultation with our SEO experts.