Launched in 2014 as Google Places, Google My Business is a free-to-use marketing service that allows you to manage how your business appears on Google Search and Google Maps. Consistent and proper local listings and citations are vital factors Google uses to determine the websites that show up in the Google Maps Local 3-Pack. The 3-Pack refers to a group of three local businesses positioned at the top of Google's SERPs, just below the paid advertisements. Through "near me" searches, Google will serve up the most geographically relevant businesses.
Citations describe any reference to your business across the web, which may include directories, review sites, and even your listing on Google My Business. For small business owners, optimizing a GMB property can encourage your business information to appear more often in Google users' searches related to your business, product, or service.  You can highlight important information about your company, including the opening/closing times, contact phone number, a detailed business description, photos, and links to your website.
Read on to learn how to create and verify a Google My Business property.
Creating a Google My Business Listing
First, you must sign in to a Google account (Gmail). For organizational purposes, use same account as your Google Analytics, Google Search Console, and Google Ads.
Follow these steps to create a Google My Business listing:
Visit the Google My Business website
Enter your business name
On the location prompt, select "Yes," then enter your business's physical address
If you serve areas outside your location, you may list those specific locations. (

Note

: This step is optional, and you may still enter this information at a later time)
Type in a business category and select the one most appropriate for your business. (For Premiere Creative, we chose Marketing Agency)
Next, choose the contact details you want to share with customers, entering in your phone number and current website URL
Click "Finish" and select a method to verify your listing
Verifying Your Google Listing
After you enter all the relevant information, Google must confirm your business. While this process may seem cumbersome, Google takes these precautions to reduce fraudulent listings and protect its users by only serving up factual information. You must verify your Google My Business listing before managing your brand's information in Google Search and Google Maps.
By completing the verification process, you confirm the information is correct on Google Maps and Google search results, where consumers actively search for nearby shops.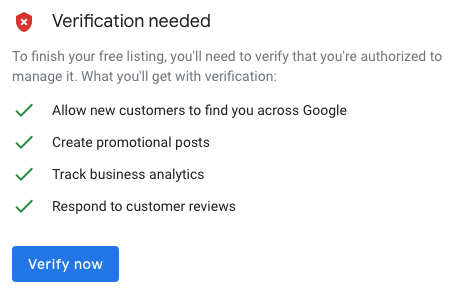 Google My Business Verification Methods
Verifying your Google My Business listing is a straightforward process with several options, which businesses can choose depending on eligibility.
Postcard Verification: Undeniably the most common method to verifying a local listing, brand managers can request a postcard containing a 5-digit code. Once requested, Google will mail a postcard to the listed business address. Once managers receive the postcard, they can enter the 5-digit code to complete the verification process.
Phone/Text Verification: Businesses will receive a 5-digit code from an automated phone call or text message. While less common than postcard verification, this method can complete the process quicker.
Email Verification: Like phone and text verification, this method verifies your Google listing instantly! Once you request an email on the GMB dashboard, Google will email a verification link. Simply open the email, and click on the button to bring your listing live.
Bulk Verification: Businesses operating more than 10 locations may become eligible for bulk verification. Keep in mind that "Service Area Businesses" (SABS) and marketing agencies cannot use this method.
Manual Verification: This option becomes available when businesses are only eligible for postcard verification but cannot receive mail at a physical address. Managers can manually resolve the verification process offline or via a live video call with the Google My Business support team. For offline verification, businesses will need photographic or video evidence of your business that must meet strict and specific requirements. If Google decides that the offline methods are not sufficient, you will have to schedule a live video call.
After finally resolving the verification process, you can add edits to your business information across Google. Further, you also view insights on the dashboard, add new photos, create posts, and respond to online reviews.
Using Google My Business to Dominate Local Search Queries
Ranking on search engines for competitive SEO keywords can help you reach thousands of prospective customers. But please be aware that this long-term SEO goal may take months until you see noticeable results. Setting up your Google My Business listing is the most effective way of ensuring your business can be seen more often on the web.
More search queries keep shifting to geographically specific businesses, and Google's algorithms now consider user intent when generating results. Thus, a GMB listing can provide you with a new way to reach customers and short-term SEO goals. Focus on creating consistent citations – your business's name, address, phone number, and website URL. Doing so shows Google that the information on these sites is trustworthy. As a result, your brand can achieve success by securing rank for local "near me" search queries and keyword combinations.
Do you need help creating and managing your brand's Google My Business listing? Having helped many clients from various industries optimize their properties, Premiere Creative can help deliver positive results on Google's free marketing platform. Make sure to also check out this helpful post about Fixing a Google My Business Suspension. Dial (973) 346-8100 to learn more about our digital marketing services.