Thanks to modern seamless technology, more local businesses continue to ditch the Yellow Pages in favor of an online listing supported by Google. Google My Business is a free marketing tool that bolsters an existing website by giving a local business a prominent presence on the world's largest search engine. More importantly, the virtual platform allows marketing managers to oversee the information a potential customer sees when they search on Google Search and Google Maps. Between driving more traffic and phone calls, Google My Business gives smaller businesses the slight boost needed to stand out against nearby competitors without relying on colossal online marketing budgets.
Unfortunately, small errors on a GMB listing – like incorrect hours of operation or an outdated phone number – can diminish a company's ongoing efforts for much-needed exposure. According to Local SEO experts, Google My Business issued more suspensions in 2020 in an attempt to mitigate spam and place quality businesses in the top positions on SERPs and maps. During this intensive crackdown, many legitimate small businesses mistakenly had their GMB listing removed or suspended, despite adhering to Google's recommended guidelines. To help smaller businesses better understand the details surrounding Google My Business suspensions, the Premiere Creative team devised an informative guide to assist business owners in restoring their GMB listing.
What is a Google My Business Suspension?
After receiving an email notice about the suspended Google My Business listing, the company's information may not appear in Google Search and Google Maps during related search queries or branded keywords. There are two types of penalties that exist – Soft Suspensions and Hard Suspensions.
What is a Soft Suspension?
Soft suspensions usually indicate that the listing was "disabled." The listing is still visible in Google Search and Google Maps, but GMB managers no longer have the means to make changes to any details. A soft suspension comes with a "suspended" label. In this case, marketing managers will receive an email from Google saying, "Your Google My Business was suspended due to quality issues." Only after fixing the quality issue can brand reps then submit an appeal for Google to reinstate the GMB listing.
What is a Hard Suspension?
For a hard suspension, the entire GMB listing was removed from Google Search and Google Maps. An account manager can still access the GMB dashboard, but the listing won't accept any new changes until Google reinstates the listing. The only viable option involves submitting a formal request to Google to reinstate it, which can become a lengthy, convoluted process.
What Causes a Google My Business Suspension?
Whenever a listing undergoes some revisions, Google's automatic tools will review and approve the new changes. So having Google declare a GMB suspension can feel frustrating, particularly since Google doesn't reveal the precise problem. The penalty may even go unnoticed for days, or at least until the dreaded email notification arrives in an account's inbox. In some rarer cases, a Google My Business suspension may originate from a factor that nobody has control over, such as an update to Google's search algorithm. But in most instances, Google My Business listings receive suspensions for the following reasons:
Stuffing keywords into a listing's business name
Using a P.O. Box or UPS store address
A listing at a virtual office or co-working space address
The company is an online-only business
The company is a high-risk business category like lawyers, plumbers, HVAC, locksmiths, or rehab centers
Managers made too many edits to the listing during one session
The URL on a GMB profile forwards/redirects to another website or links to a social media page
The listing was modified from a Storefront to a Service Area Business (SAB)
The information on a listing doesn't match the website or other online business directories/citations
Google suspended a GMB manager or owner's account
The company has multiple listings for the same business at the same address (duplicate listings)
Spammy or illegitimate businesses typically see suspended GMB listings because Google wants to ensure users have access to consistent high-quality search results. So maintaining up-to-date information benefits everyone involved in the sales process—cleaner search results lead to more streamlined user experiences, which make customer interactions and generating sales leads more likely.
How to Reinstate a Suspended Google My Business Listing
If Google does suspend a company's GMB listing, the brand manager should first review the official GMB guidelines and Google's restricted-content guidelines. Due to the recent increase in the suspension rate, it may take some time to see a response from the support team. After identifying the cause of the suspension, the GMB manager will need appeal for a listing reinstatement. They can do so by contacting Google directly or filling out a form for local business reinstatement.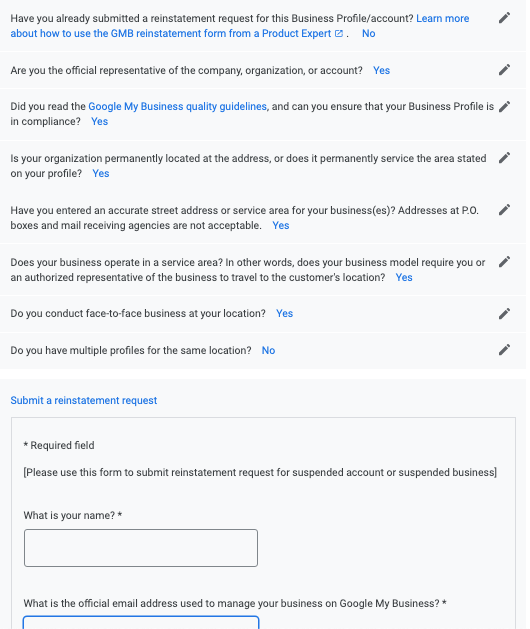 To remove a GMB listing from suspension, Google may require brand reps to provide extra documents for further validation. Here are a few examples that brand representatives may need to provide:
State business license (if required by the state)
Professional licensing (if required by law)
Proof of occupancy of the location
Utility bills
Rental agreements/deeds
Photos of the business location
Street address of the building/suite numbers on the door
Company vehicles with logos parked at the building
Tax identification papers
Video verification
Let Premiere Creative Help You Reclaim Your Google My Business Listing
Do you need help restoring your brand's Google My Business listing? Having collaborated with many clients from various industries to better optimize GMB properties, Premiere Creative can help deliver positive results on Google's free marketing platform. Dial (973) 346-8100 to speak to an account manager for more regarding our digital marketing services.