The global pandemic of COVID-19 accelerated the adoption rate of online shopping and online search. For less active users, online purchases become a daily ritual; but for many, it eliminated mundane in-store shopping. While some rely on referrals, most of us rely and trust what Google (and other search engines) tells us. Why bother making a call when we can receive instant answers in a few keystrokes?
The COVID-19 outbreak forced most of us to change work and social environments by becoming homebodies. With consumers spending more work and leisure time from home, comforts and luxury at home quickly shifted into a necessity. While home renovations and DIY projects flourish, many homeowners focused on adding or upgrading their pool and backyard area.
With Google showing a 172% increase in Year-over-Year search volumes for "pool construction" and "pool maintenance services," how can you guarantee your company receives an invitation to the biggest backyard party the pool industry has ever seen? Read on to learn some advanced tactics to market your pool construction company.
A New Website – Give Your Pool Company a Strong First Impression
When you search for a product or service, consider what a website can reveal about a company. Why do you feel compelled to stay on some websites longer than others? Remember that 91% of communication is visual, so your pool website needs to reflect the quality of your work and the professionalism of your staff.
Your website's design must feel inviting so that searchers want to stay on the site and learn more about services that can satisfy their pain points. The content, both written and visual, must engage the prospect as you gently attempt to guide them down your sales funnel.
You'll want to double-check that your website has the following elements:
Responsive Design
Quick Loading Times
High-Quality Images in the Gallery
Simple Navigation / Website Architecture
Customer Support Contact Forms
Client Testimonials & Case Studies
Social Media Links
Perception is reality and the way prospects view your website and company will ultimately impact your bottom line. Pools are a high-ticket investment, so you'll always want to lead with your best foot forward when users land on your website.
Great Content – Grow Your Brand Through Organic Search
Search engines like Google or Bing allow prospective buyers to discover your website. Imagine the sheer volume of new visits you'll receive if you manage to rank at the top of Google's search engine result page (SERP). So the next step after building a beautiful and user-friendly website involves generating organic web traffic through advanced SEO tactics.
When a potential client types in "best pool contractors near me" into Google, the search engine serves up with what it feels are the best results that match your query.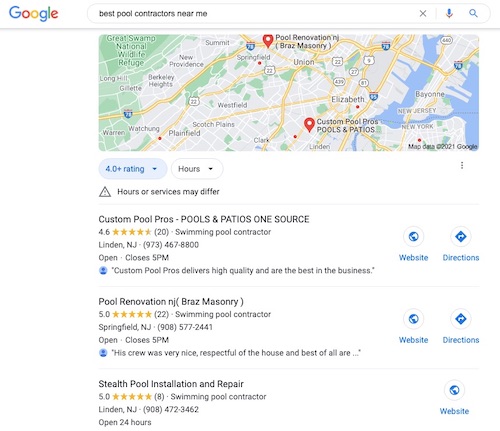 Imagine consistently coming up in the first 3 search results on various keyword searches. You'll start receiving lead inquiries in no time.
So how do you get search engines to rank your website? Simple – by luring them with valuable new content. Creating content on your website serves two purposes. First, great content educates visitors or solves their problems, so they stay on your site longer and are more apt to hire you. Further, Google loves content and will update your keyword ranking to reflect the newly published content.
Optimized Paid Ad Spend – Save Dollars with Refined Budgeting
Pay-Per-Click ads allow you to control the amount of money you spend each day by creating a monthly budget. Best of all, you only pay when someone clicks on your ad and goes to your website. For example, a $3,000 per month budget would allocate $100 per day in clicks. If each click costs $5.00, then 20 new people would be visiting your website in a day. Even just 1 or 2 new pool projects can pay for a full year's worth of digital marketing
But with PPC, you want to make sure that the ad is targeted and specific. In the pool construction business, that means service and maintenance. For example, if a prospective customer needs an emergency service over the weekend and they live in Westchester, NY, purchasing an ad with targeted, specific keywords can be very lucrative to your bottom line. An ad click that costs $1.20 might generating $300- $500+ in revenues.
Anyone searching for "Weekend Emergency Pool Service Westchester, NY" already knows they will pay a premium fee for that service since it is the weekend. The bottom line is they want to use their pool and something is preventing that from happening.
Through your ad, the web user can call your company who will fix their problem and save the day so the kids can enjoy the great weather. You will likely land a lifelong client, which then causes your return on ad spend (ROAS) to surge.
Email Marketing – Keep Engaging and Delighting Clients & Prospects
Client outreach doesn't end once you close a sale or complete a new construction project. You'll need to keep in contact with clients and prospects if new needs or future issues arise. Keep the communication going by launching an email marketing campaign.
Gentle reminders of upcoming service calls along with a survey follow-up will give clients an opportunity to tell you how great your team is, or to offer some advice as to how it can be better next time. You may want to provide before and after pictures if the service warrants. Through your email campaign, you can explain specials or offer a discount for an annual plan for a referral or VIP program.
Email campaigns are critical for your prospects, as you want to stay in touch but without being too aggressive. The goal is to stay in front of your prospects, so when the time is right to build that pool, you are the first company they think about.
Omni-Channel Marketing for Your Pool Construction Company
Weaving a combination of these digital strategies into your marketing can drive qualified leads to your pool business. Each marketing tool (when used in conjunction) creates a successful "outside sales team" for your business.
With over a decade of experience with some of the largest pool contractors and landscape architects in the Northeast, Premiere Creative will create a website that highlights your talents and deliver more qualified leads. Call us at (973) 346-8100 to schedule a call with our digital marketing specialists.