Newsletter blasts are a great way to stay in touch with customers, offer new products and promotions and share new content from your website. Email blasts also serve as great web marketing tools. Take this email newsletter from Professional Audio Consultants (PAC) as an example.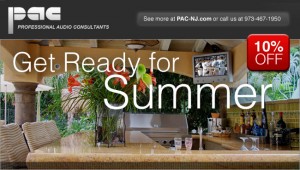 For local businesses, it's a great idea to offer a promotion in your email blasts. Since summer is almost here, outdoor activities are on everyone's mind. PAC focused on an outdoor theme for their June newsletter, offering a 10% discount off any outdoor equipment. This is a great way to bring your customers in, have them inquire about new products and offer a discount.
Also included in the newsletter is information links. PAC used two different approaches, one link to the website's outdoor audio/video page where you can find helpful information about outdoor products. The second link was to a blog post written by the company's President. Here, there's more of an opinion/personal view, but still with informative content about outdoor audio/video products. Overall, you want to inform your customers.
With any web marketing, you need to be creative. What's the theme? What are you offering customers? Why do they want to read your newsletter?
An email newsletter is a great way to wrap up your efforts. You can tie-in your blogs, your website and any promotion you want to run. Continue to offer new promotions each month and be sure to include relevant articles to learn from. Customers are always interested in new, exciting products and you can especially draw them in with a discount.