Facebook is and always will be the top social media network. Despite what news media and the state of the business may suggest, over 2 billion users log on to Facebook every month. With an incredibly large and robust user base that is representative of all races, genders, sexual orientations, and social strata on every continent, brands can utilize Facebook's ad products to reach more users. Even better, marketers have several choices for Facebook ads. Whether you choose static images, video (and vertical video), rich media assets, or any other type of ad unit, your ads must adhere to certain specifications.
Why Facebook Ad Sizes Matter
The costs associated with Facebook advertising can add up quickly depending on the cost structure for the campaigns you run. If you're a savvy marketer, you want to make sure every dollar in ad spending completes your marketing objectives and propels your business forward. The easiest way to deplete your budget is to create ads that don't fit Facebook's specifications.
General Size Specifications for Facebook Ads
Each type of marketing asset has a unique set of size and dimension requirements. To create an ad for any asset type – from static images to GIFs – you must first understand Facebook's general specifications for most ads.
Static image files need to be in either .JPG or .PNG format
Upload videos files in either .MOV or .MP4 formats
Text can only make up 20% of your static image
File types will not change, but maximum and minimum files sizes may change depending on the ad type
Recommended Guidelines for Single Image and Marketplace Ads
Love them or hate them, single image display advertising is the bread and butter of Facebook marketing. You've no doubt seen Marketplace and Single Image Ads while scrolling through your newsfeed. They usually contain a single image with a hyperlink to a landing page, a link description, a compelling headline, and captivating body text. The best results come from Marketplace and Single Image ads that meet the below criteria.
Recommended Dimensions: 1200 x 628 pixels
Minimum for Width and Height: 600 pixels
Recommended Aspect Ratio: Between 9:16 and 16:9. This allows for a variety of ad designs and shapes
Text: 125 Characters
Headline: 25 Characters
Link Description: 30 Characters
Facebook Video Ad Dimensions
The videos on this ad unit generally start automatically, which is part of what makes them so efficient. Unfortunately, most people watch these videos without turning on sound. To make the most of this ad type, remember to enable closed captioning.
Recommended Video Aspect Ratio: 16:9
Recommended Video Resolution: 1080 x 1080 minimum, use the highest resolution possible
Maximum Video Length: 240 minutes for in-feed ads, 5-15 seconds for in-stream ads
Maximum Video File Size: 4GB
Headline: 25 Characters
Link Description: 30 Characters
Facebook Carousel Image Size Guidelines
Many eCommerce advertisers find that carousel ads can greatly boost CTRs and conversions. Carousel ads are perfect for showing off multiple items simultaneously or displaying multiple images of a single product.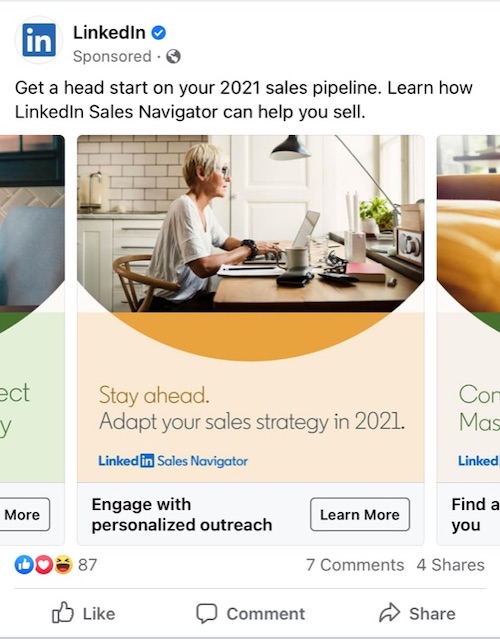 Carousel unit designs are intuitive, engaging, and perfect for displaying products in greater details.
Minimum Width and Height: 600 pixels
Recommended Aspect Ratio: 1:1. Facebook will crop anything that isn't square
Maximum Size Per Image: 30MB
Carousel Video Size Guidelines

Recommended Resolution: 1080 x 1080, minimum
Maximum Video Length: 240 minutes; Facebook recommends 15 seconds or less
Maximum Video Size: 4GB

Text: 125 Characters
Headline: 40 Characters
Link Description: 20 Characters
Dimensions for Facebook Story Ads
Stories are a new and popular way to advertise on both Facebook and Instagram. Brands typically use video when advertising through Facebook/Instagram stories because the space provided does not allow for long lines of text. Videos statistically receive more clicks and conversions, so use them to your advantage.
Recommended Resolution: 1080 x 1920
Recommended Aspect Ratio: 9:16
Minimum Image Resolution: 600 x 1067 pixels
Maximum Image Size: 30MB
Minimum Video Resolution: 720p
Maximum Video Size: 4GB
Guidelines For Facebook Right Column Ads
Right column ads have the highest cost-per-click of all Facebook ad types. They also convert quite well, so markets should weight the pros and cons of harnessing these desktop-exclusive column ads. To maximize column ad ROI, follow the guidelines below.
Minimum Height and Width: 600 pixels
Recommended Image Resolution: 1200 x 628
Recommended Aspect Ratio: 16:9
Text: 125 Characters
Headline: 25 Characters
Link Description: 30 Characters
Facebook Messenger Ad Guidelines
Facebook Messenger is the third most used social media app after Facebook and Instagram. That's a lot of traffic for your company to leverage. As users scroll through their Messenger app, ads appear between conversations.
Recommended Resolution: 1200 x 628 pixels
Recommended Aspect Ratio: Between 9:16 to 16:9
Minimum Width: 254 pixels
Minimum Height: 133 pixels
Text: 125 Characters
Headline: 25 Characters
Making Facebook Ads Work For Your NJ & NYC Business
Facebook offers robust and diverse advertising capabilities. With Facebook leading the social media marketplace in terms of daily active users, marketers must explore each offering. If you need assistance launching an effective and efficient Facebook marketing initiative, Premiere Creative stands ready to help! We take pride in creating outstanding ad campaigns across all social media platforms. Call the social media experts at Premiere Creative today to start driving leads and sales on Facebook. Dial (973) 346-8100 to connect with one of our social media managers.