Defensive ads are a vital component to selling on Amazon, yet many eCommerce brands do not leverage this strategy. Failing to consider defensive practices can have disastrous results. Don't believe me? Then consider Blockbuster's tragic downfall. At its peak in 2004, Blockbuster consisted of 9,094 stores and employed approximately 84,300 people. The company dominated the DVD and video rental industry until Netflix appeared on the scene and changed the game entirely. Having failed to create a defensive marketing strategy, Blockbuster could not compete with the streaming service, and eventually went out of business.
Competitors routinely run offensive ad campaigns against your brand or PDP keywords, especially when customers think of your brand as a synonym for an entire product segment. By placing defensive ads on your Amazon product detail pages, give your brand an extra layer of projection while you upsell complementary products to customers. Depending on the nature of the competitor's attack, different defensive marketing strategies can be applied in terms of pricing, distribution, product improvement or advertising.
Need help racking your brain around Amazon defensive ads? No problem! Our paid ad specialists rounded up some expert insights you can apply to your own Amazon advertising strategy.
What are Defensive Ads?
An Amazon defensive ad strategy helps protect your own branded keywords from poaching competitors. Defensive ads block competitors who are bidding on your "goodwill" branded keywords or specific ASINs; these snipers are looking to appear in related products searches. In essence, a successful defensive ad strategy helps mitigate opportunities for competitors attempting to introduce their brand to your viewers.
A defensive Amazon PPC strategy focuses on bidding for ad placements adjacent to your own products – which you can identify through keyword and ASIN targeting. Occupying the space means depriving others of the opportunity as well as showcasing your product catalogue. With defensive ad spending, you can corner a bigger section of the market and block your competition from achieving their own goals at the same time. Aggressively advertising and using ads in a defensive manner could help to suppress the competition and ensure that someone else's product directly competing with yours, does not appear on this page.
What are the Benefits of a Defensive Amazon Ad Strategy?
One of the key benefits of Amazon ASIN defense is to fully own ad placements on your product page. This means when a shopper clicks on your listing, they'll see your full catalog of products. While there is no 100% guarantee you'll earn these positions, they'll help you push competitors off your product page, therefore increasing click-throughs to your products.
Other benefits include:
Expose repeat customers to other products
Provide non-committal shoppers another opportunity to convert
Upsell and move complementary products
Increase brand awareness
Improve listing cohesion and aesthetics
The Best Amazon Ads for Defensive Campaigns
The two types of Defensive Ads available are Sponsored Product Ads and Sponsored Display Ads.
Sponsored Product Ads (SPAs)
These ads appear at the top of the user's search results or under the product description on a PDP as a carousel/ribbon of sponsored content. Sales from these ads are invaluable as they improve organic search ranking. Through Sponsored Product Ads, you can place your high-performing ASINs on your competitor's ASINs. Available on desktop and mobile, Amazon serves ads to shoppers based on relevant keywords or products.
Sponsored Product Ad (SPA) creatives and formats are automatically generated by Amazon. As the advertiser, you set a budget, select targeted keywords (or automatic keywords), and choose the ASINs you want to promote.
Sponsored Display Ads (SDAs)
These ads appear under or next to a product description, which is prime real estate on an Amazon Product Display Page (PDP). The SDA type is best for remarketing and displaying ads both on Amazon and other websites. Use product targeting display ads to appear on your PDPs and push out the competition offensively. For defensive ads, choose the product targeting strategy, select bids, and budget, and then select the audiences and products you want to advertise.

Since SDA placements are so prominent (especially on mobile), conversion rates are extremely high. As an added benefit, not as many sellers take advantage of Sponsored Display, so CPC is often lower than other ads.
Where do Defensive Ads Appear?
On any given page Amazon search result page, there are a limited number of ad spaces available. This means that when a shopper is searching for a product, there are only so many opportunities for them to see an item. You might already have beneficial organic positioning for your ideal products, which could lead you to believe that you don't need to invest any further money in advertising at all. SPA and SDA formats are automatically generated by Amazon for mobile & desktop.
These ad formats may appear on the top side or within search results, as well as on the PDP, while SBA requires manual input of content. If you bid for highly competitive keywords, you can expect to pay a higher price because these ads convert at a higher rate above the fold (as opposed to below the fold). There are approximately five different areas an ad can appear on a PDP. Better location on search results and a PDP are more expensive.
Product Detail Pages on Desktop and Mobile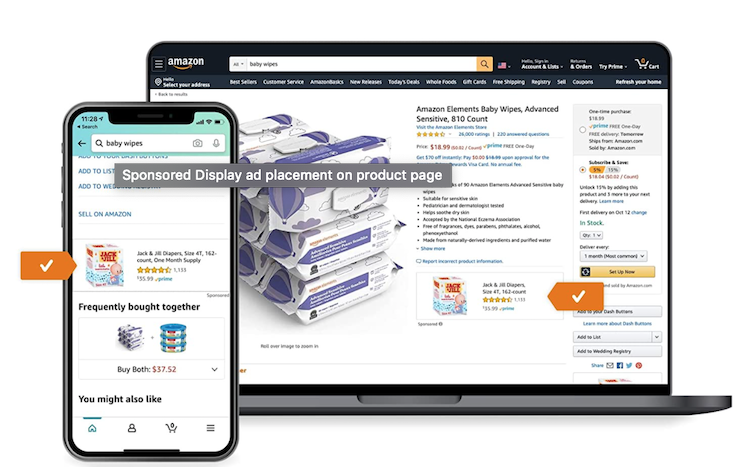 Ad snipes are a great way to provide users with alternate products of equivalent value.
Amazon Home Page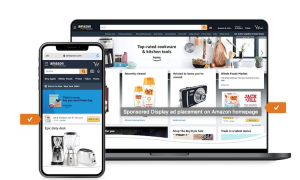 Amazon's homepage is dynamic and personalizes products to each user session based on browsing and search history.
Off Amazon – Amazon Audience Views (Off-Amazon Third-Party Sites and Apps)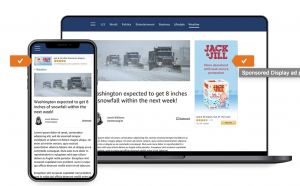 Amazon has tremendous media reach through Twitch, Discord, Washington Post, and other properties. Marketing strategies on Amazon pass through to other related digital properties where the possibility of conversion is likely.
Customer Review Pages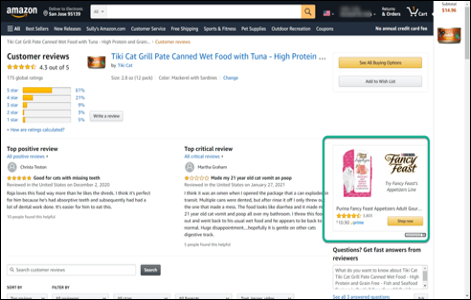 Users naturally gravitate to user reviews which provide premium spotlights on targeted marketing ads.
Top-of-the-Offer Listing Pages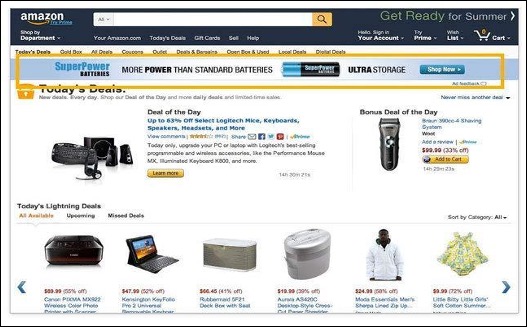 Category-specific TOLP placement provides broader reach but reduces overall conversion metrics due to lower quality traffic.
How to Create Defensive Ads on Amazon
STEP 1: Log into your Seller Central Account.
STEP 2: On the left-hand dashboard, click on ADVERTISING and then select CAMPAIGN MANAGER.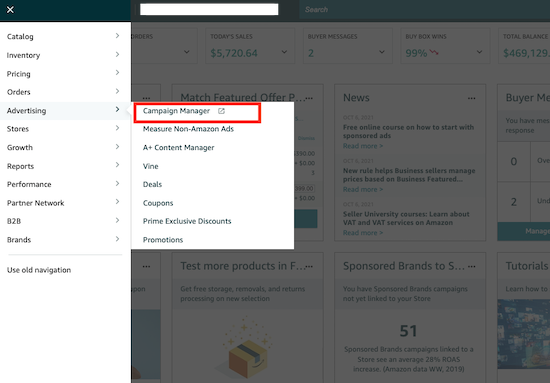 STEP 3: Next, click the CREATE CAMPAIGN button.

STEP 4: Choose the CAMPAIGN TYPE you want to run.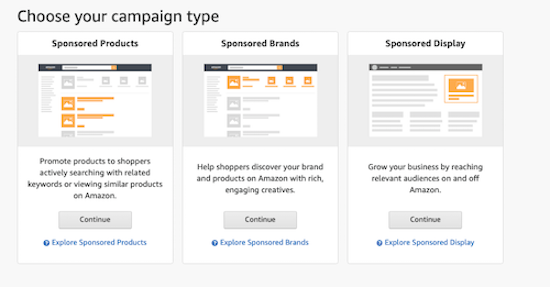 STEP 5: Fill in CAMPAIGN DETAILS. Choose Your campaign name, campaign duration, daily budget, and a targeting option.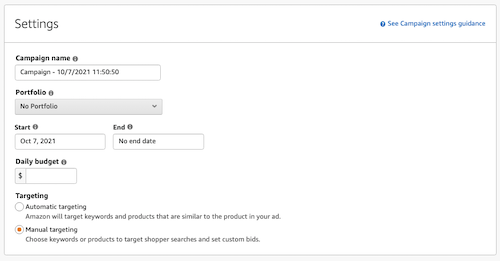 You can opt for Automatic targeting, where Amazon will target keywords and products that are similar to the product featured in your ad. Alternatively, you can select Manual targeting, where you can choose keywords or products to target shopper searches and set custom bids.
STEP 6: Select your CAMPAIGN BIDDING STRATEGY.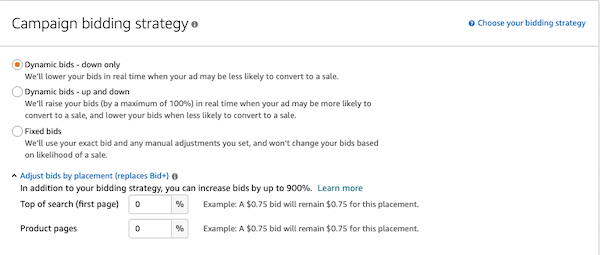 STEP 7: Create an AD GROUP. Consider grouping products that fall within the same category and price point range. You can edit your campaign after launch to create additional ad groups in campaign manager.
You can also add multiple ad groups to your campaign, but you can choose only one targeting type per ad group.
Keyword Targeting

: Use this strategy when you know the search terms that customers use to search products like yours.

Product Features

: Use this strategy to help shoppers find your product when browsing detail pages and categories or searching products on Amazon.
STEP 8: You'll then need to input KEYWORDS to target for your campaign.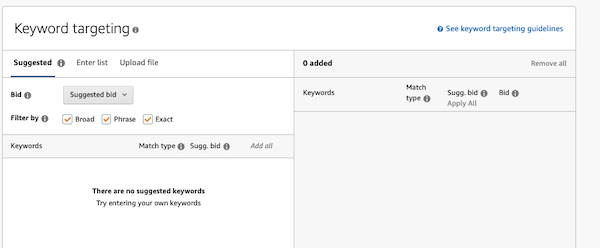 STEP 9: Save your campaign as a draft and review every detail. Once you're satisfied with all the specifications, click LAUNCH CAMPAIGN.

The Best Practices for Defensive Ads
Set up a campaign with an ad group for every ASIN. Doing so creates complementary or substitute options to block out the competition.
Use the same keywords for each ASIN. Don't forget this important step so to place sponsored product ads on competing brand's PDPs.
Use exact ASIN numbers as keywords. Remember to bid using a high percentage of Adjust Bids by Placement to ensure your ad will appear on your competitor's PDPs. This is the best way to push out competitors from the SPA ribbon, which can appear on your PDP. Since the defensive targeting is so specific, the bids must be higher. But not to worry, as they should help keep users within your Amazon store.
Start Building Your Defensive Ads Today
Defensive ads should be a critical piece of your overall marketing strategy. All brands, especially market leaders, need to be on the lookout for new competitors. Here's the million-dollar question: how are you going to safeguard your brand and market position on Amazon?
Unless you have a robust defensive marketing strategy in place, then your competitors can overtake you at any time. Amazon advertising is constantly evolving, unlocking new advertising opportunities for sellers to generate more revenue. The most successful brands on Amazon will adapt to these new changes and leverage them to capture market share and steal sales away from the competition.
Are you ready to consider your defensive ad approach on Amazon? Connect with our talented team of Amazon gurus by dialing (973) 346-8100.