If we had to make a guess, switching your web domain from HTTP to HTTPS sits pretty low on your list of priorities, right? In fact, the thought probably hasn't even crossed your mind. If this is the case, you're actually doing yourself more harm than good.
HTTPS websites create an extra layer of security that will keep both you and your clients safer from sneaky hackers on a mission to steal data. But by encrypting the information exchanged between your website and your customers, HTTPS websites create a safe place to conduct business online.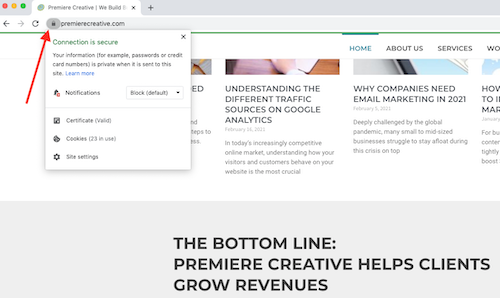 Furthermore, this nifty feature can also improve your search ranking along the way. With so many benefits, more companies continue to make the switch from a standard HTTP site to the more secure HTTPS format. So why haven't you?
What is HTTPS?
HTTP and HTTPS websites are acronyms for the type of communication your website exchanges with customers. For anyone unfamiliar with the technical aspects of a website, HTTP stands for Hypertext Transport Protocol. Meanwhile, HTTPS stands for Hypertext Transport Protocol Secure.
HTTPS utilizes a Secure Socket Layer (SSL) certificate that automatically encrypts any information exchanged between a visitor and a website. For example, let's imagine that a customer wants to make a purchase on your website with their credit card. Rather than transcribing the customer's exact name and credit card number, an SSL replaces this information with random numbers, letters, and symbols. If a malicious hacker were to invade your website, they would unable to harvest your client's valuable information. Of course, no security system is perfect; savvy hackers may be able to break your website's defenses. Nonetheless, this feature can keep hordes of data miners at bay.
HTTPS Gives Your Website More Authenticity
Most web surfers are smart enough to separate legitimate websites from the fraudulent. Unfortunately, many web surfers are still gullible to scams. With so many data breaches against trusted companies like Chili's and Target, customers don't want to hand out their personal information to any website. HTTPS websites, however, shows your visitors that you're committed to upholding their privacy and security. By having an HTTPS website, even your tech-savvy clients will know you've taken the extra steps to protect them from identity thieves.
HTTPS is a Must for Your Website!
If your website carries an online transaction system, you must convert to your website to HTTPS. When people enter their credit card numbers online, they place their trust in you to keep their personal information safe. There's no sugarcoating it, but failing to uphold this trust will result in the loss of customers.
In addition to keeping your customers safe, you'll want to implement HTTPS to protect yourself and your brand. If you own a WordPress website, you've probably logged onto the backend to make an occasional change. But what do you do if a hacker installed malware into your computer, and steals your website's credentials? If you've done your homework and converted to HTTPS, your website will have an extra layer of security to shield this information from miscreants.
HTTPS Websites Rank Higher on Search Engines
In addition to protecting your clients and your brand, converting your website to HTTPS will reward you with a higher rank on search engines. Google recently announced its plan to rank HTTPS websites above non-secure websites. After putting so much work into improving your Google search rank, do you really want to lose your progress over something you can easily avoid? For novice website owners, Google provided instructions explaining the most efficient method to migrate your website from a standard HTTP site to a secure HTTPS website. Whether they stick with the small SEO boost they offer right now or offer larger boosts in the future, you don't want to have your website penalized because you chose to skip out on an extra layer of security.
How To Purchase An SSL Certificate
To begin the process of moving to a secure website, you must first purchase an SSL certificate. Many online companies, like GoDaddy, offer SSL certificates. In general, it's easier to purchase an SSL certificate from your current web host. While terms and conditions differ amongst companies, most of these services offer support if you need help.
Remember, Google wants to see authenticated certificates from reputable sources. After all, SSL focuses on security, so Google responds better to reputable sources. If your host does not offer SSL certificates or the option to move your domain to HTTPS, you may want to consider finding a new host once you've finished your contract.
Do you have questions about how to move your website from HTTP to HTTPS? Or do you want to learn about other SEO strategies that can impact your search engine rankings? Contact Premiere Creative today. Our SEO experts can help diagnose your website, as well as provide ways to help improve your online visibility.