Welcome back to our series on web marketing for mobile phones/smartphones. Today, we'll discuss more ways to optimize your mobile site.
As mentioned in our previous post, it takes a mobile user longer to enter the same number of keywords as a desktop user. For this reason, mobile queries are often much shorter, and search engines like Google try to compensate for this brevity by providing predictive phrase/query suggestions, which from an SEO standpoint, would be great in helping to determine what keywords your business should try to rank for.
An important aspect of mobile SEO is location. In order to enhance the user experience, mobile search engines present results in a different manner than desktop search engines. As mentioned before, mobile users often tend to be on the go, and their needs tend to not only be location/task specific but also immediate. As a comparison, you would not be able to do a comprehensive research report on a mobile phone the way you would on a desktop. The experiences are completely different.
To get the most out of mobile SEO, you need to gain a better understanding of how the mobile experience differs from the desktop experience.
Search engines like Google tailor to the immediate needs of mobile users by modifying the presentation of the results page. For example, suppose you're walking around looking for a place to grab a quick bite to eat. You type in "diner somerset, nj" on your mobile phone (with the search engine predicting/completing your search query for you). You'll see a page that looks like this: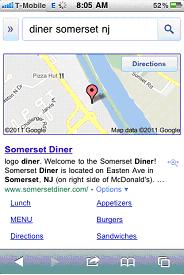 Note that the map is centered and located at the very top. Contrast this with the desktop version, which looks like this: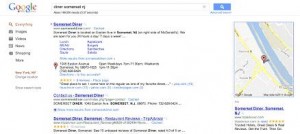 Besides the obvious reason of the mobile screen being much smaller than the desktop screen, the placement of the map on the mobile results page makes sense for the mobile user experience. If you're looking for a diner in Somerset on your mobile device/smartphone, then most likely you want to find one as soon as possible so that can go there immediately. That's why location is such a crucial factor in mobile SEO. If you want to improve your mobile SEO, you'll definitely want to make sure you include location in your keyword research.