Do you find your store struggling to keep up with modern trends in eCommerce and online shopping communities? Is your business unable to predict or catch trends at the earliest stages? Doing so gives your brand an enormous advantage over your competitors by stepping into untapped markets.
With millions of monthly users, brands can use Pinterest as an invaluable tool for recognizing emerging trends online. These trends can dictate the types of content you serve up while playing a vital role in your brand's marketing strategy. Come join the Premiere Creative team as we delve into the best practices for finding exciting new Pinterest trends.
What is Pinterest?
First and foremost, Pinterest is a discovery search engine centered around ideas and interests. According to Pinterest, more than 400 million people visit the platform every month to explore and discover inspiration from more than 240 billion saved pins. These ideas can come from prevailing fashion styles, mouth-watering recipes, life-improving products, or even movie recommendations. Furthermore, users can browse through different "Pins" that the Pinterest algorithm curates, matching users with their top interests and passions.
Pins can appear in various media forms, such as videos, images, and text. Moreover, pins may also include links to products, storefronts on various marketplaces, blog articles, or anything else that creators want viewers to see. When a user enjoys a pin, they can save it to a "Board." Additionally, group boards allow people with common interests to share their favorite pins in a specific category or genre. Understanding the terminology of this popular platform will help you learn how to identify trends brewing on Pinterest and connect them to your business.
Why Do I Need to Find Pinterest Trends?
In any industry, discovering a trend in its early phases may determine how many impressions you receive on your account. Imagine, for a second, that you saw "homemade pizza" earning more search volume on Pinterest. When your business introduces a new at-home pizza oven into the market before your competitors, you may dominate the market and set your brand up for success. On the opposite side of the coin, failing to capitalize on this trend may impede your chances of succeeding in a saturated market. So, while locating the latest trends takes time and strategy, the payout will be rewarding.
How to Find Pinterest Trends
So, how do you find Pinterest trends? The best place to search for emerging trends on Pinterest is none other than the platform itself. Once you log into your account, navigate over to the drop-down menu labeled ANALYTICS, and then click on TRENDS. The Pinterest Trend Tool will give you access to direct data from Pinterest that will help you identify current, real-time trends. Launched in 2019, Pinterest Trends allows marketers to analyze search volume trends on Pinterest. The trends that you see relate to keywords based on search volume, thereby helping you refine your marketing strategy by targeting ideas that have the potential to go viral.
Start by using the search bar to investigate preexisting ideas you think may be trending. Use keywords that relate to your expected trend and assess whether the data supports that trend or not. By looking at the chart, you can see if that specific keyword or phrase is trending in relation to its past search volume. A trending term moves up as it receives more searches than it has in the past.

In addition, you can also compare multiple keywords at the same time by clicking on two or more ideas. This will allow you to directly view which term has more search volume and therefore understand which trend is currently more relevant.
Pinterest Categories
Another way to use the website database is to scroll through trending ideas across their most popular categories. The platform suggests looking through categories such as "Fashion," "Food & Drinks," "Beauty," "Home Décor," and more.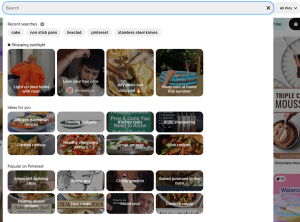 By looking through the most popular keywords in each category, you may identify trends that competitors overlooked.
The Pinterest Search Bar
A third approach to discovering trends on Pinterest involves adopting a user perspective, as well as some help from the search bar. By typing in keywords, the search bar will auto-fill with popular search suggestions.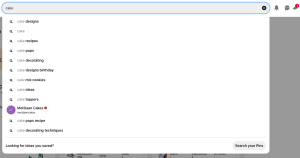 These suggestions are the terms and phrases that Pinterest users are searching for. Thus, you should serve up similar content.
After you search a term, take note of the pins ranking at the top of the results page. These pins rank high there because they have the most engagement and will provide extra insight into the trend you want to jump on. Examine the top pins for helpful keywords, titles, pin descriptions, and links to gain even more insight into the trend.
What to Do Once I Identify a Pinterest Trend?
Jackpot! You beat your competition to the trend. After laying out the groundwork, you can start brainstorming innovative ways to refine your marketing strategy. This revised strategy might include deploying new keywords in your pins, designing new graphics on your website to match the trend, or targeting new customers on your social media platforms based on a new demographic you uncovered. Intensive market research allows you to know what you are getting yourself into with your new idea.
More importantly, spying on other companies in the same industry can serve as a blueprint for the next phase in your strategy.
Don't Do it All Alone, Let Premiere Help!
Regardless of how you use the data acquired through the Pinterest Trend Tool, utilizing the new trends requires creativity and a strategic approach. Using a Pinterest marketing agency with years of experience can take your marketing strategy and business plans to the next level.
Whether you just found your new trend or need help using Pinterest to identify a new one, Premiere Creative can help your business grow in the digital marketplace. Call (973) 346-8100 to learn more about how we can help you grow your business on Pinterest.