Have you considered jumping on the social bandwagon and using Instagram to better promote your business? If you're still on the fence, did you know that analysts believe Instagram's global mobile ad revenues will reach $2.81 billion by 2017? Were you also aware that Instagram is the second most used mobile app behind Facebook with approximately 60% of users logging in daily?
With rich and creative photos at their fingertips, it's no wonder why 30% of users of the Internet are on Instagram because the social platform is addicting. As a video marketing and creative agency, we at Premiere Creative know how to best market your business and integrate it in the social media strategy. Here are some ways you can capitalize on this photo-sharing platform and supercharge your marketing efforts.
Switch To A Business Account
Like Facebook, Instagram offers specialized business accounts for brands. If you haven't already switched over to the business profile, it's time to get acquainted and learn all the benefits as to why it will help boost business.
Easy Accessibility – The new layout for a business profile is optimized for customer usability. This new layout eliminates the arduous process of opening a link, scroll and expand to find your contact information on your website. The header on your Instagram account now has a clear contact button that offers options such as "get directions" and "call," as well as a visible address and website URL.
Instant Insights – By learning from analytics, brands can now focus on the best way to appeal to their fan base. Business owners can view and analyze impressions, reach, and follower information within the past week on each of their posts. With this feature, you can measure what type of content is working, what needs improvement, and even what time of day is best to post.
Turn Posts Into Ads – You can now reach new potential customers by creating an ad by promoting your existing content. Business owners can also choose a budget, audience, call to action and set an ad to your timeline.
Hashtags Help
Using the proper hashtags can connect you with members of your brand's particular industry. Hashtags can increase your post reach, and group your post into similar categories, which allows you to reach new potential customers. Hashtags also allow you to sniff out competitors in your industry.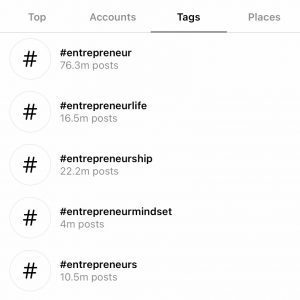 Begin by accessing your ideal market with broad terms such as:
Location – #NYC
Industry – #Entrepreneur
Product – #Cars
Couple that with generic hash tags such as #selfie, #picoftheday or #lifequotes, and you will soon be attracting your ideal customers.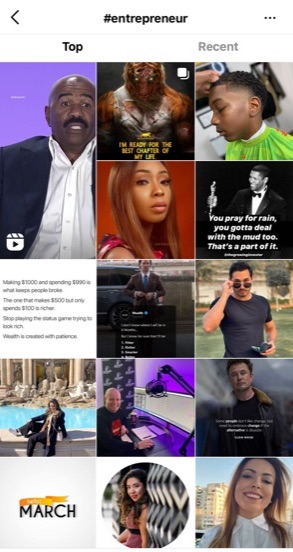 Instagram will help you curate the most popular tags so you can make sure you are with largest pool of posts.
Connect with Direct Messages
Otherwise known as "DMing," this function allows you to share any information or converse with customers through a private, "secure" message. This function is beneficial to your business because you can answer customer questions, reach out to industry leaders, and even network with others in your field. DMing is an ideal funnel for engagement because it allows you to build relationships with new and existing customers; furthermore, you may even begin got convert them into loyal brand advocates one day.
Social Strategy
Did you know the engagement rate with brands on Instagram is 10 times higher than Facebook and Twitter? Companies should best utilize this engaging platform by creating strong social strategies with creative marketing. When developing a strategy, you should consider putting yourself in your customer's shoes. For example, Pizzeria owners should know that Pizza is top posted food on Instagram. A pizzeria can leverage this trend by promoting a custom hashtag for followers to use while enjoying a slice of your pizza.
Photo Layouts
As you begin to create content, you should consider brand's role in a particular industry. Is your industry photogenic? Perhaps you are in real estate, event planning or even own a travel agency. If this is the case, then your products need to be visually appealing to the masses in order to bring in business. One keen marketing tactic is to reveal just part of an entire captivating photo, by posting it in sections throughout a specific timeline, thus building suspense. This tactic will have followers eager to see the whole picture.
If you are a bridal boutique or paint store, you can also provide product or merchandise in a monochromatic visual display for a row of posts on your business account. The opportunity to be creative on this visual platform is only limited by your imagination.
Moving Toward Mobile
With Instagram being a mobile-only app, and merchants like Amazon amongst many others powering internet sales, brands now commonly showcase their products on Instagram to market and sell. Reports indicate users are 70% more likely to purchase products and use services they see on Instagram. Why? The photo sharing capabilities Instagram offers make products visibility enticing for users to purchase; it's shopping online without directly acknowledging the act.
Instagram can be the perfect marketing app to that works with most industries from medical, retail shops, restaurant, travel, even pet sitting and dating apps. Assess your company and best evaluate how you can leverage this photo-sharing platform for to boost your business insta-ntly! For more on how to use Instagram for Business or if you need help setting up an account, contact the social media experts at Premiere Creative or give us a call at (973) 346-8100!